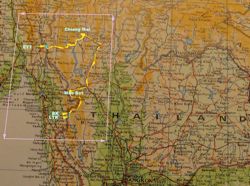 From 12/19/07 through 1/8/08, Andrew Arnold and Bob Arnold travelled to visit old and new friends carrying with them vision screening equipment, Eye Exam equipment, medicine and 40 pairs of sturdy, tube reading glasses in case adults were examined in addition to children. The destinations included villages on the Thai-Burma border including EeThooThe, Bung Klueng and LehTungKu and the AIDS orphanage in Chiang Mai called Agape Home. Coordinating the effort were the Free Burma Rangers, an affiliate of Partners in Chiang Mai, Thailand. The trip was supported, in part, by the Missions Commission from Anchorage Grace Church and the Alaska Blind Child Discovery.
In the spirit of Koyukon village screening clinics, tent photoscreening was used in addition to brand-new Precision Vision ABCD Surround HOTV Acuity Flip Card screening. An ultra-portable screening tent was constructed of FibraPlex carbon fiber poles and coated nylon fabric from Warmlite. the tent weighed under 1000 grams and rolled up to 45 cm x 10 cm x 10 cm. Two Canon TX1 dgitial flash cameras were used for photoscreening with onsite interpretation by Andrew Arnold using the Delta Center Crescent method.
A special thanks to all those whose energy, resources and prayers made this trip possible. Thanks to Dr. Paul Runge of Sarasota, Florida who travelled to Anchorage to cover NICU and ROP care so Dr. Arnold could leave Alaska longer than one week!

Eyedoctors Bob Arnold and Mitch Ryan discus goals.